Tom Clegg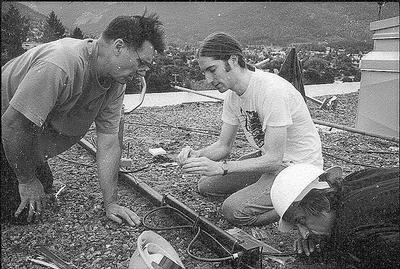 Fred Rosenberg photograph
The one with the computers, not the film director.
New stuff is here for some reason. Some of the same old stuff is also here.
Server colocation in Nelson BC.
Words. Radio program scripts. FAQ, sort of. Mendel's research on hybrids in evolution and the irony of his beliefs concerning theories of evolution.
Pictures. A few scenic British Columbias and one other Cleggs. Tattoodle gallery (new).
Machine readable. qmail extensions for giving users multiple pop3 mailboxes. mp3cat for logging and streaming MP3. Apache patches. SSH public key. PGP public key.
Time waster. Scrapbook of jokes and stuff.
Boring but surprisingly popular. How to replace the stereo in a Toyota Corolla.
Related. Kootenay Cooperative Radio, community radio. Shanti Yoga Works, yoga every day in Nelson. Lardeau.com for students. Kootenay Gallery of art history & science. Selkirk College. Marjorie, Laura, Barry, Alison, Joni.
---
tom@tomclegg.net or tom@fiction.org. Hosted by Kootenay Internet Communications Society. Powered by djbdns, Apache, and FreeBSD.